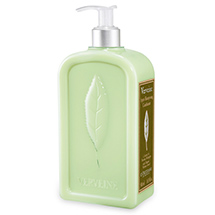 L'Occitane Verbena Conditioner. This conditioner immediately smoothes and detangles hair. Enriched with organic verbena extract from Provence, its ultra-light formula restores vitality and shine to the hair. It leaves hair light, fresh and pleasantly perfumed with a fresh citrus scent. Suitable for all hair types.
Retailer: L'OCCITANE Australia
Price (AUD): $42.00*
FREE Standard Shipping in Australia on orders over $100
*All prices are in Australian dollars and are subject to change by the retailer
About L'OCCITANE
In 1976 in an Haute Provence farmhouse, L'OCCITANE was born. Olivier Baussan gathered blooms and herbs to extract their essences using centuries old distillation methods. Oliver captured the region's most subtle fragrances and blended them with natural ingredients to develop L'OCCITANE very first products based on essential oils. L'OCCITANEwas founded out of respect for the environment, animals and people and now 30 years later L'OCCITANE is a global brand with over 1000 stores across 90 countries. Every L'OCCITANE product range has its own story to tell. Our logo joins the L'OCCITANE name with the phrase "A True Story" This defines the spirit of L'Occitane, always mindful of creating products which respect both man and nature.